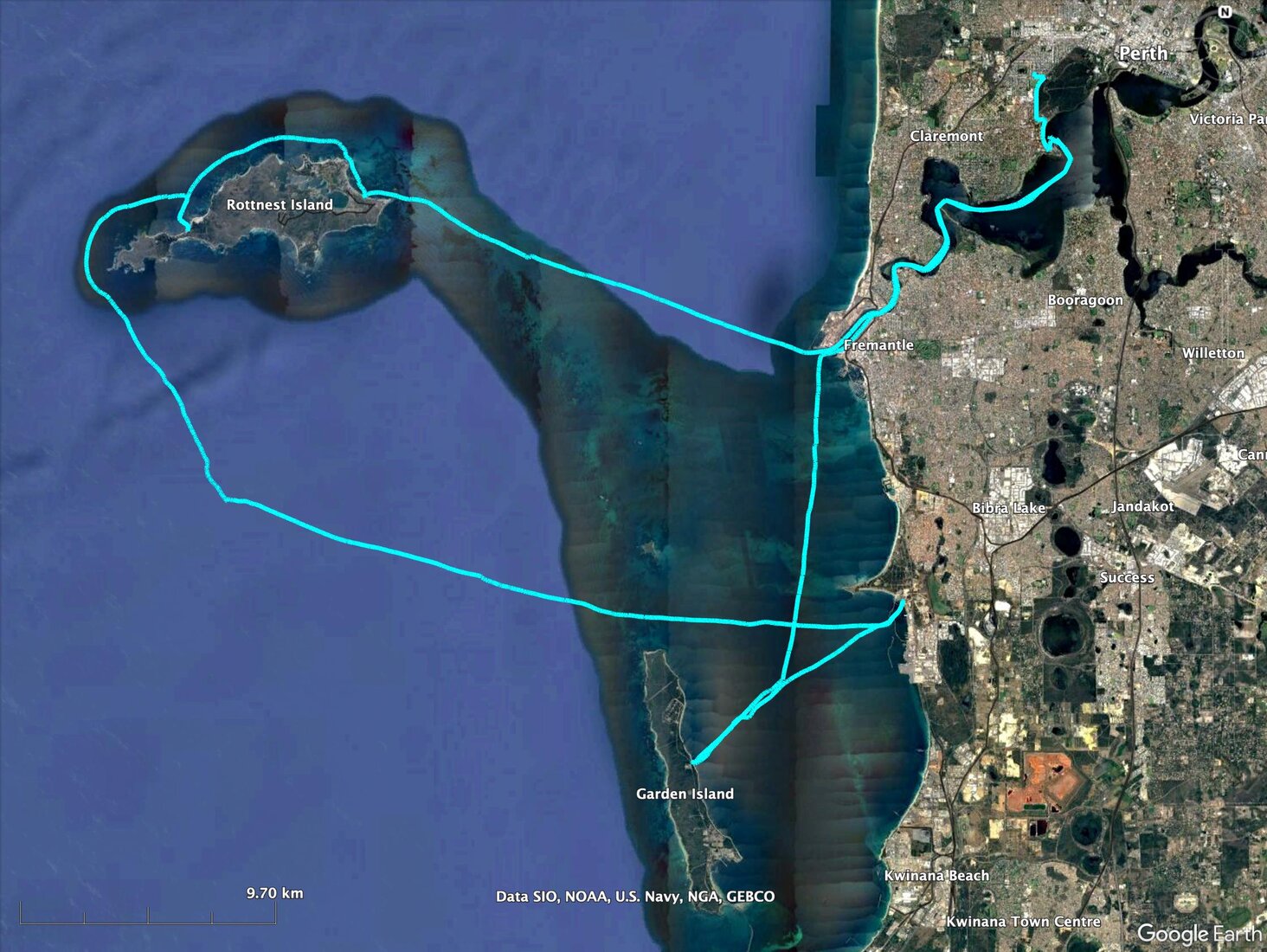 How plans for a day trip to Garden Island got out of hand…
We had a day trip from Woodman Point out to Garden Island planned for Sunday the 23rd of April. I thought why not sail down to Woodman Point the day before and camp on the boat overnight. That way I can have a fun sail and avoid having to deal with the boat ramps at Woodman Point. Looking at the forecast I saw that we had several days of mild and warm weather leading up to Sunday but on Monday things would turn. Why not leave a bit earlier and go via Rottnest? I had been meaning to do a Rottnest trip for some time.
On Thursday morning I launched at Matilda Bay, drove the car and trailer home, and got a lift back to my boat and set off. Inevitably I did not get away as early as I would have liked. The forecast was for the wind to drop off mid afternoon and I wanted to get to Rottnest before then. It was a gentle run down the river, a little too gentle and it was quite a while before I passed through the heads at Fremantle.
As I headed out the easterly was still just holding and it got me about half way across before the sails started slatting. The remainder of the trip was done by my noisy air cooled 2HP Honda. There was quite a bit of smoke in the sky. My original plan was to get to Rocky Bay but I had had enough by the time I got to Thomson Bay.
I tucked myself in at the beach near the army jetty and set myself up for the night. All was well until about 1am when the north easterly reestablished itself. The chop was not that large but its effect on the boat was very uncomfortable and not much sleep was had after that. In the morning I saw that it was not just me, all the neighbouring boats were having a horrible time. I headed down to the settlement to have breakfast in a stationary chair.
Mid morning I set off for Rocky Bay. I motored out until I had cleared Bathurst Point and then set my sails for a pleasant cruise along the northern side of the island.
Rocky Bay is a lovely spot, clear water and empty beaches. Determined to have a more comfortable night I positioned myself behind a small rocky outcrop and reef close to the beach. This was only partially successful, small waves still found their way through at 1am…
On Saturday morning I motored my way back out through the lead markers and then set my sails in a moderate easterly. It was perfect conditions for making the run around the west end from which I would then head down to Woodman Point.
Approaching the west end the swell starts to make its presence felt. The photographs do not convey it but even in quite benign conditions the west end is an intimidating place to be in a small boat. Watching the power of the swells from side on as they broke onto the reefs off Cape Vlamingh was quite something, it certainly made you keep your distance.
Once around the cape I settled in for the long close hauled leg on port towards the northern end of Garden Island. Eventually the easterly died away and I had to motor for about 8km before the moderate sea breeze came in. Slipping through Carnac and Garden Islands I made my way to the small beach next to the Woodman Point ramps. The perfect shelter gave me a very comfortable night on board.
On Sunday morning I was joined by Arapaoa, Wee Birlinn, and Gryphon. We had a lovely sail across to Garden Island in perfect conditions.
I left early after lunch because I wanted to get back to Fremantle and then Matilda Bay that afternoon. This was rather ambitious but 25 knot winds were forecast for Monday. The promised south westerly turned out to be a rather light north westerly and I eventually resorted to the motor to get me within striking distance of Fremantle. Approaching Fremantle the breeze finally came in from the west allowing me to have a gentle sail into the harbour, (that is, once some very inconsiderate power boats had gone past). Approaching the bridges the ebbing tide made its presence felt. The outboard was started and the closer I got to the traffic bridge the more throttle I needed to make headway. The outward flow was quite scary. Eventually my little outboard was running flat out to just squeeze me through. From there on I motor sailed all the way back to Matilda Bay arriving a bit after dark.
Within a couple of minutes of reaching the beach my wonderful wife turned up in the car. Having a Spot tracker is a very good thing!