Murray River Cruise June 17 2018
Contributed by James and Belinda Bennett with photos by Peter Kovesi and Dave Archer.
Despite the threat of bad weather later in the day from a fast approaching weather front, the first cruise on the winter calendar attracted 8 boats and over 17 crew.
The weather was perfect, sunny, with a midday high of 24 degrees and a strong-ish north easterly wind forecast. Eight boats launching one after the other at the Pinjarra ramp was a bit squeezy and did cause some congestion, making it necessary to raft up on the small jetty, to ease the situation those who had launched first were already away and idling midstream.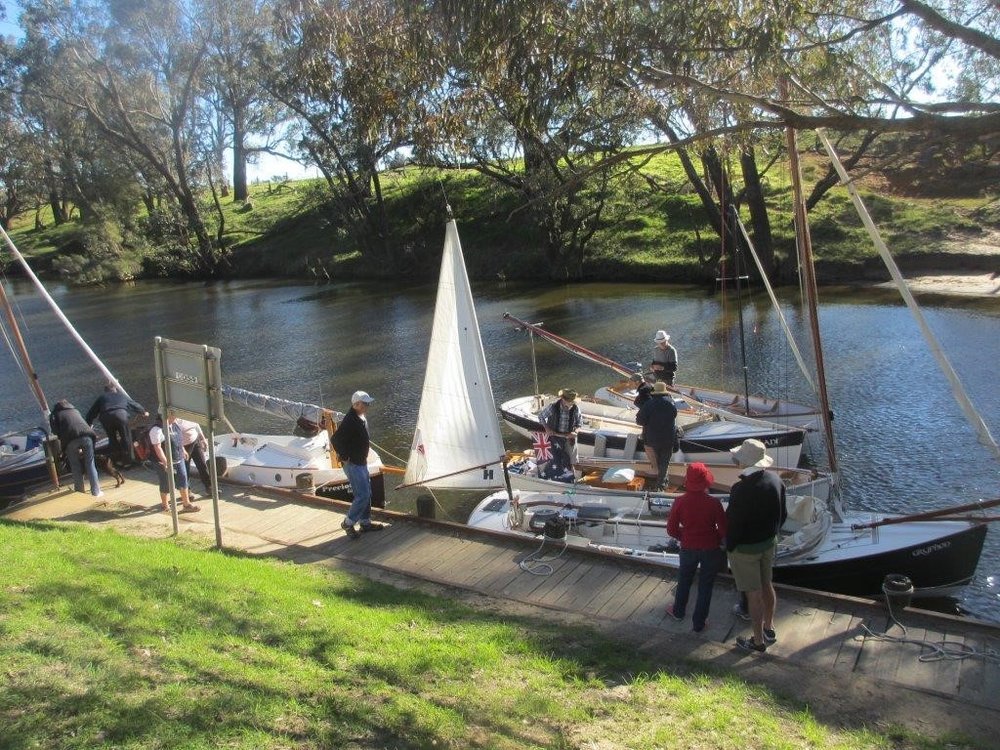 The river level was good and running at about 1 knot after the recent rains, this combined with some overhanging trees and the strong wind made manoeuvring and turning in the narrow section of the river by the ramp quite tricky.
Once underway with the current under us, it was very pleasant to motor downstream with the engines running on a low murmur. Ducks and darters were caught unawares as our flotilla of 8 boats appeared unannounced around the numerous bends in the river. The Murray River on this section has some steep banks with fallen trees and shallow sections on the inside of the bends requiring the skippers and crew to keep a good look out.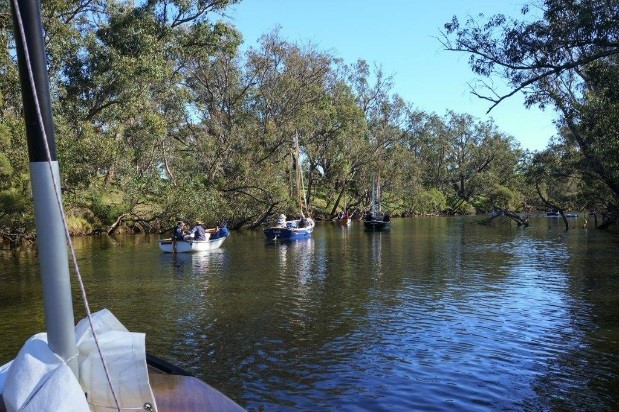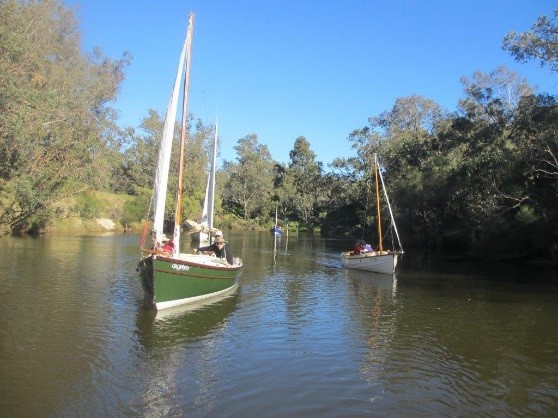 Bruce the Chocolate Labrador on Precious Little was also keeping a good lookout, but somewhat more wistfully watching the passing water, trying to figure out how he could get in a quick swim and chase a duck or two.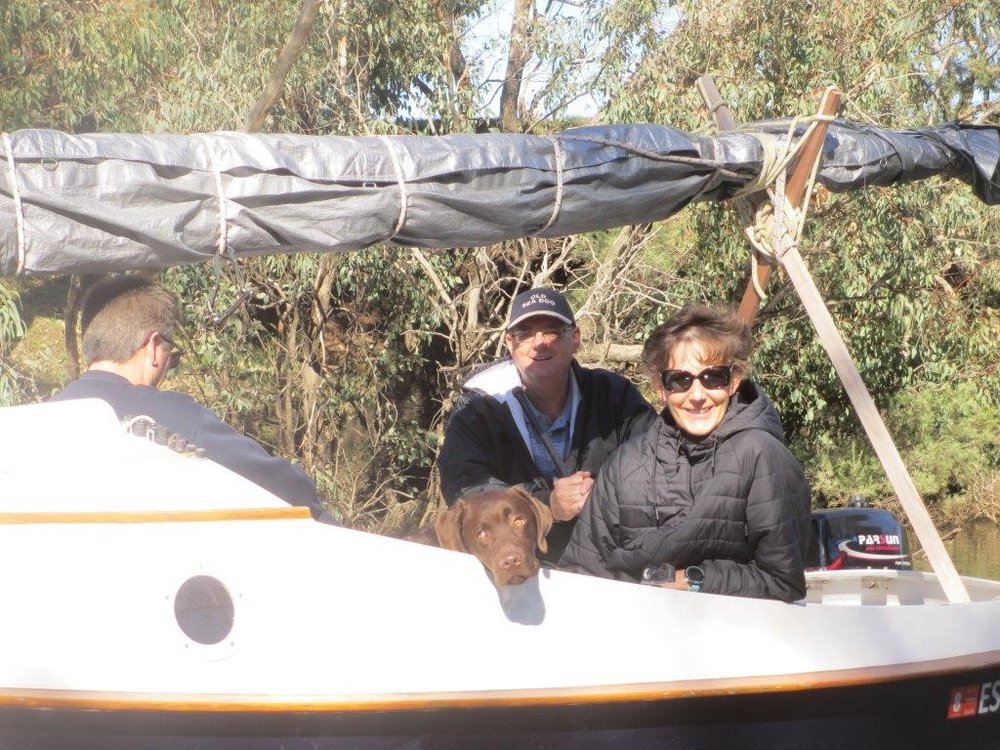 Around 1kM downstream, a notice in a tree warned river users about a submerged rock around the next corner. This appeared to be marked with two green channel markers. It was interesting to see which side some of our fleet passed these mid-river marks, Chris R must have been undecided as he (gently) hit one mark fortunately with no damage other than embarrassment.
It was so quiet that conversation was possible between the boats as we motored onwards, so quiet in fact that everyone could hear what Rachel said when the engine on Ripple stopped and she headed into the river bank and the overhanging trees, again fortunately no damage to boat or crew.
The idea had been to motor to the same picnic spot we used 2 years previously, however about 200m short, Dave Archer spotted a really excellent looking sandy beach with a nice raised grassy knoll above it. The beach was long enough to accommodate our 8 boats and there were no overhanging trees.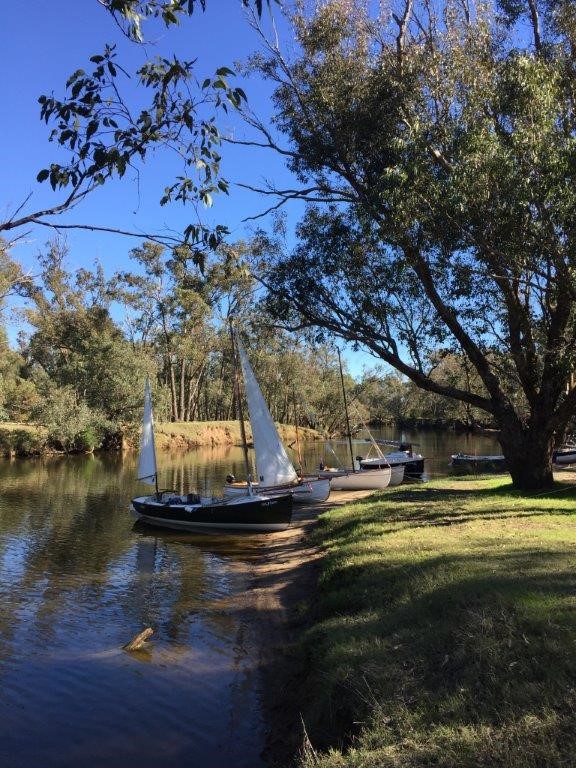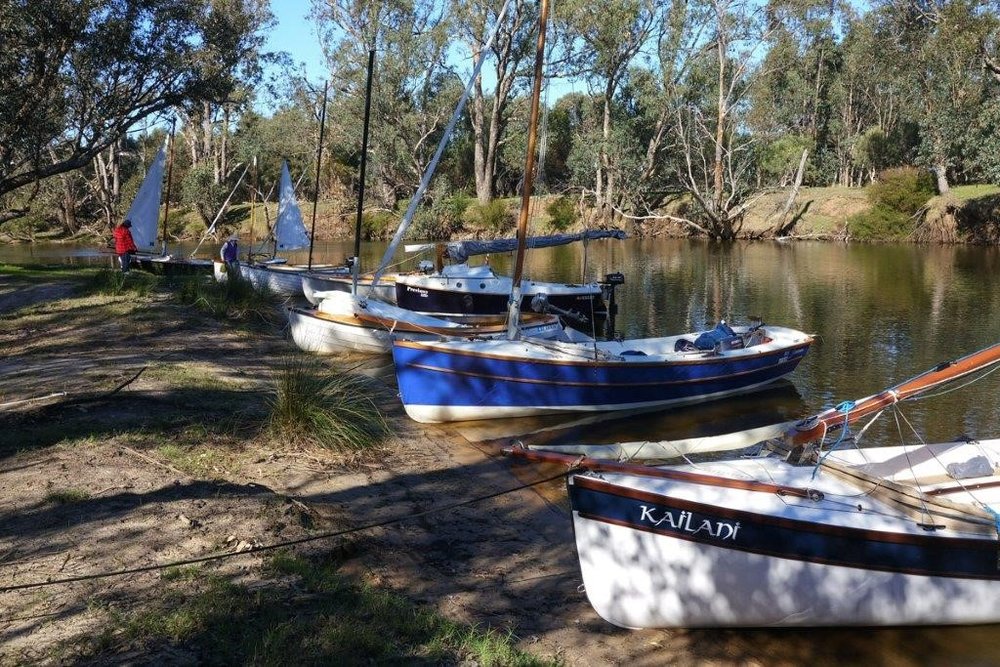 While the majority of boats had been motoring Whimbrel's crew appeared to be on a mission to sail and row to the lunch spot, a feat they managed in good time, albeit with the current helping and a quick use of the gasoline topsail.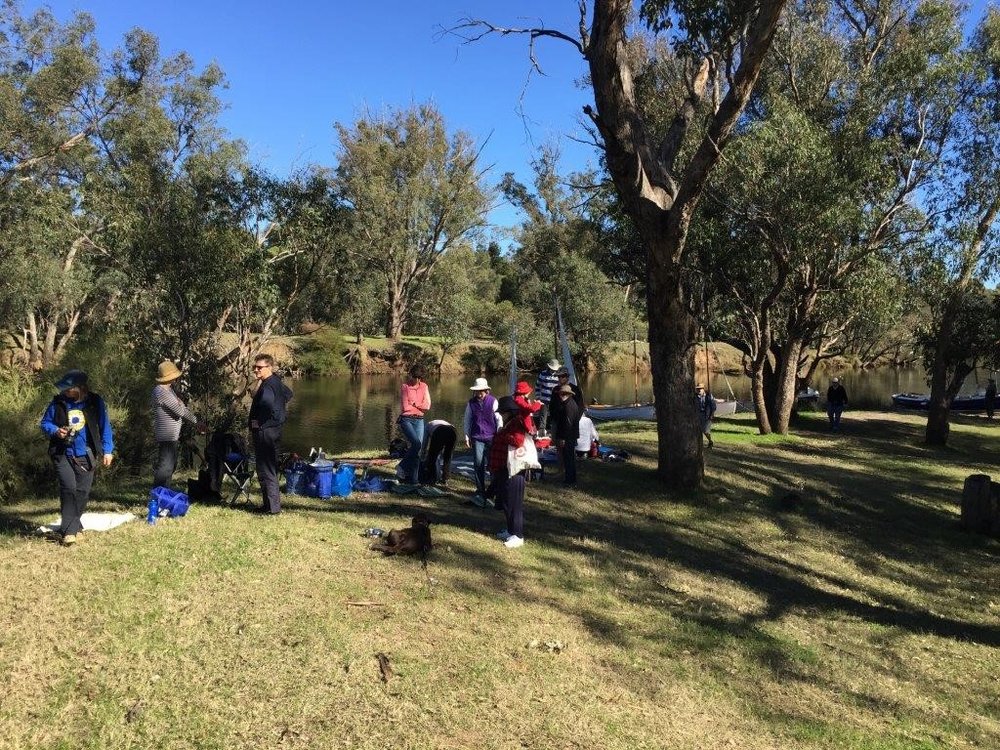 A very pleasant and sociable lunch was enjoyed, with some of us exploring the area nearby, which consisted of a series of dried channels that may occasionally flow with water during times of flood. The many trees and green grass gave a feeling of parkland rather than farmland.
All too soon it was time to head back upstream. Our departure was slightly staggered so that we didn't all arrive at the Pinjarra ramp at the same time. With the current against us our engines were running a little more noisily, however it was still a very pleasant trip. The last 1.5km the current was notably stronger, however well within everyone's capability and certainly within Whimbrels crews rowing and sailing ability, though they did get to the Pinjarra ramp after most of us had left.
Participating boats
Precious Little Reach Out
Gryphon Whimbrel
Fala Silver Gull
Ripple Kailani
Thanks to Jim Black, Peter Kovesi and Dave Archer for the photographs