Picnic Day on the Murray River June 2017
Written by James Bennett, photographs by James and Belinda Bennet.
On Saturday 17 June five boats met at the Ravenswood boat ramp for a picnic voyage down the Murray River to Coopers Mill on Cooleenup Island. Taking part were:
Ripple Rachel Kerr with Pauline Dilley
Whimbrel Peter Kovesi
Arapaoa Michael Arthur and Chris Saunders
Karina Wally and Shirley Cook
Kailani Tracey Ricketts with James and Belinda Bennett
The idea for the destination of this year's opening winter Murray River cruise had come from Rachel Kerr. Rachel has very pleasant memories of boating trips and staying at a friend's house on Cooleenup Island from many years ago. Coopers Mill on the western end of the island was a more isolated place then, and walking down to the mill was an adventure that she, husband David and her son Dylan (now my son-in-law!) enjoyed. The passage down river from Ravenswood is a slightly longer trip than last year's Murray River excursion, on paper being about 5 nautical miles each way.
The autumn weather in Perth has been marked by an almost complete lack of rain, and so it was on Saturday we woke to another clear but cool day. Unfortunately, Chris Robinson had a bingle with his boats bowsprit and the rear window of his car as he left his driveway, so had to pull out of the days fun.
We met at the Ravenswood boat ramp at 10.00am for 10.30am departure. Karina owned by Wally and Shirley Cook was already neatly moored at the boat ramp jetty. Tracey Ricketts arrived expecting to be on Chris's boat, but was invited to join Kailani. After a bit of chatter everyone launched and we were off, albeit a little later than scheduled. Michael Arthur in Arapaoa had launched at 9am as he was proposing to row downstream.
This year Kailani's engine started pretty well straight away, so our four small boats set off in the bright morning sunshine. The tide was ebbing so our passage was reasonably fast. After the Ravenswood Bridge, we were very surprised and delighted to come across three dolphins chasing fish in the brown and opaque Murray River water, as we were watching the dolphins a large eagle flew over our heads and snatched something off the water. The eagle landed in a tree and was joined by its mate, where magpies and mudlarks mobbed them. As we drew nearer the tree, we could see that the birds were White-bellied Sea Eagles, these eagles are easily the size of a Wedge-tailed eagle, and are impressive birds. Before we could get close enough to take a photograph, they took to the wing and it was then we realised that one of the eagles had a duck in its talons. Nature in tooth and claw.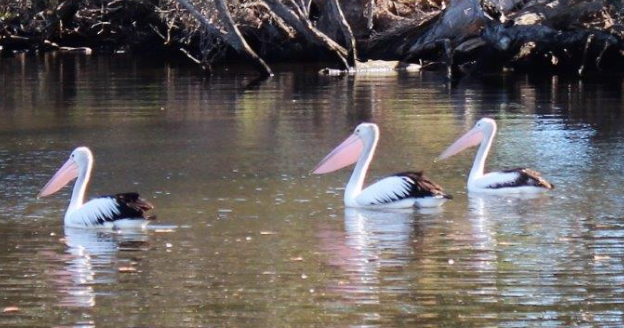 On the stretch of river running past North Yunderup two boats hoisted sail, switched off their gasoline topsails, and enjoyed a slow run before the light easterly wind, however once in the lee of Jeegamyeejip Island, to make any progress the engines had to be restarted. As part of his preparations for the Shark Bay adventure, Peter had rigged a remote steering system consisting of a rope that ran inside the entire length of his cockpit coaming allowing him to steer the boat even when attending the forward mast, very neat and simple.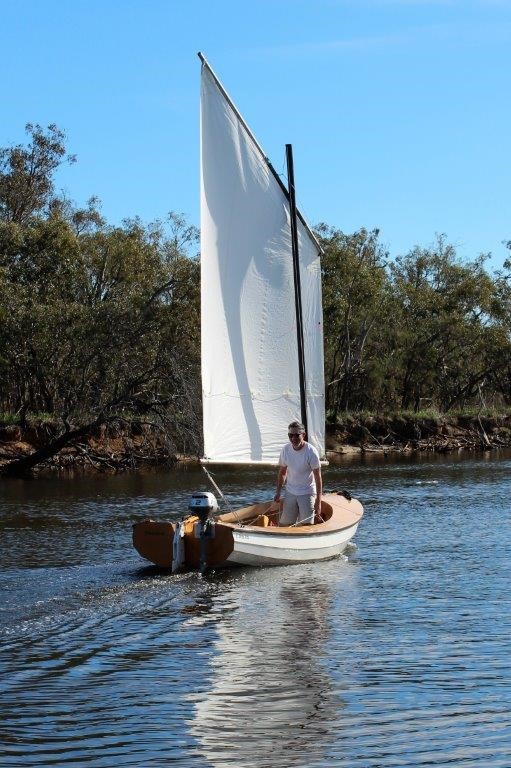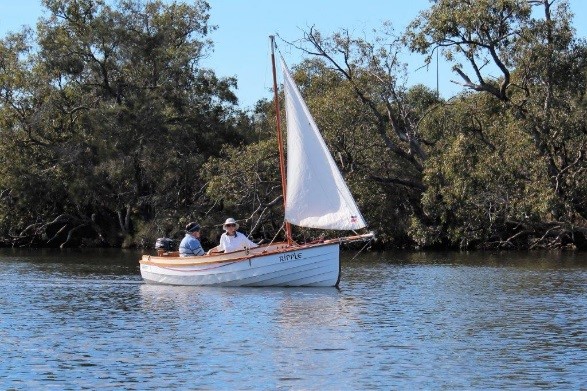 Shortly after that, the inevitable occurred and Kailani's engine stopped (to put this into context, see last year's Murray River blogg). Peter Kovesi kindly offered a tow as he motor sailed down river. Kailini's engine had been serviced and run several times the previous week in preparation for a sailing trip in Shark Bay with Peter and Chris Robinson, so this was not a good development. Apart from the embarrassment and imposition this creates on the rest of the group, the only upside to this is situation is the relative quiet that descends over the boat. There are some seriously well-appointed houses on this section of the Murray River, almost all of them with a jetty and boat at the bottom of the garden. One house had its own slipway with a large motor boat hauled out for the winter.
We had been expecting to overhaul Michael Arthur in Arapaoa, as there was no sign of him I was getting concerned, so rang him and was surprised when he told me that he was already at the picnic spot, and had been there for some time. He obviously had a very willing and fit crew in Chris Saunders. When the rest of us arrived we found that the area around the mill has been developed into a very pleasant picnic spot with BBQ's, running water and seating.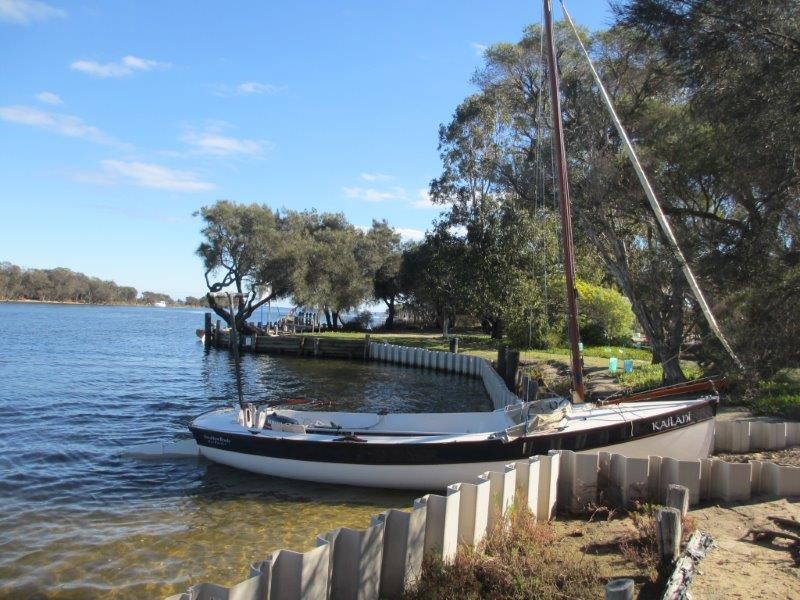 Once we had all sorted out where to moor our boats the picnic hampers emerged and their contents were unpacked and we settled down to enjoy our food. Tracey surprised us all by producing the most amazing looking carrot cake.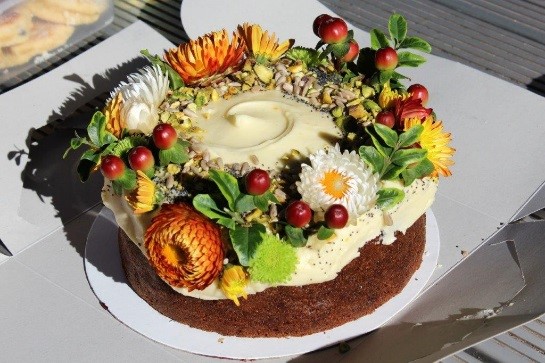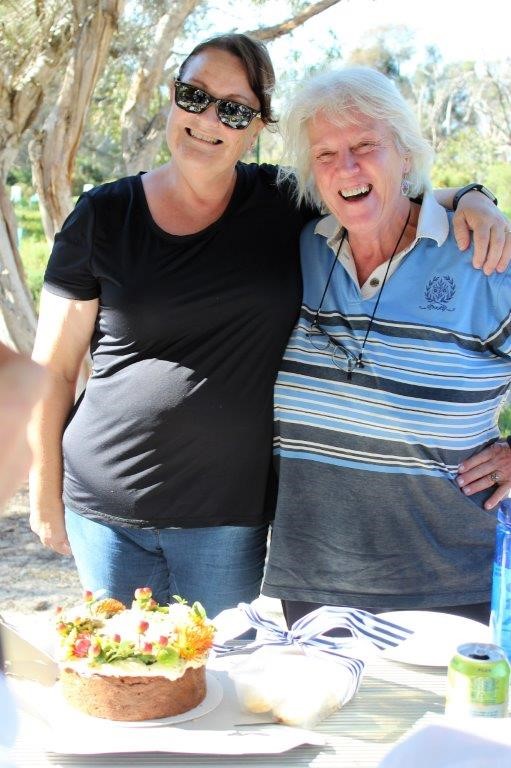 After lunch we walked over to Coopers Mill, passing close to the house where the islands care taker lives, we were amused to see in their garden several vegie patches that had been planted in old boats. Judging by the mass of greenery in each boat this works really well!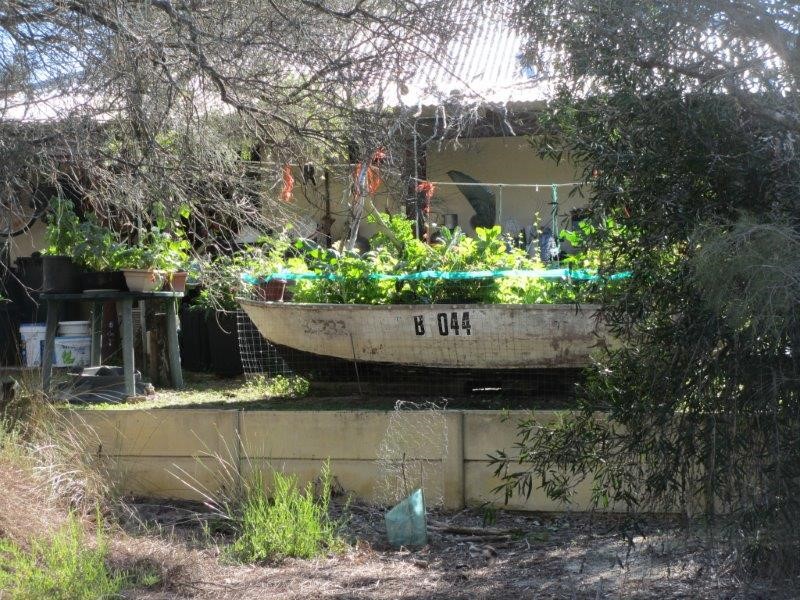 Information boards inside the old mill gave the detailed history of the mill and the surrounding country. It was sobering to note the marker showing the height a flood had risen to many years ago.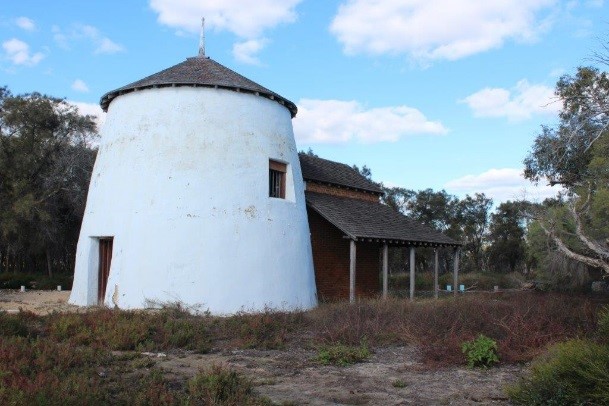 After a short stroll around the grounds, it was time to head back up river. Michael had negotiated a tow with Peter. Kailani's engine started immediately. Some of us decided to motor back taking the tributary to the north of Jeegamyeejip Island, the houses here are a bit older and sit on larger plots.
After re-joining the main part of the Murray River there was a noticeable increase in boat traffic with family's out enjoying the sunny conditions. After about 20 minutes Kailani's engine decided it had had enough for the day and stopped, fortunately we were very close to a jetty and glided in to wait for the others to catch up.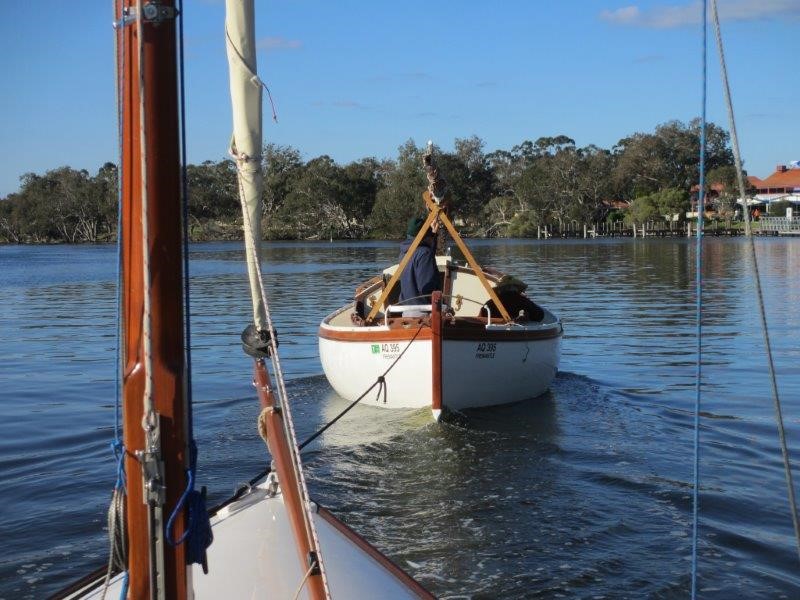 Wally and Shirley offered us a tow, and once this was sorted out we continued up river enjoying the mid-afternoon sun. Passing the Ravenswood Tavern we noticed that Peter, Michael and Chris had pulled in for a refreshing beverage, however the rest of us continued up stream to the ramp.
After helping each other recover the boats and a final chat it was time to head home, as we drove off we could see the tavern visitors coming around the final bend of the river just downstream of the ramp.
A toot on the car horn and a wave brought the end to another very enjoyable and interesting Murray River picnic cruise.
We are proposing to hold another cruise on the 19 or 20 August launching near Pinjarra and motor downstream, more details to be released nearer the time.
Thanks to everyone who came along and a special thanks to Peter, Wally and Shirley for towing Kailani around all day again much to my shame.
James Bennett
Photographs: James and Belinda Bennett
PS FOR SALE 5hp 2 stroke Yamaha outboard, low running hours, offers welcome!