Swan River Raid: December 2012 – Day 2

by Chris Robinson

Matilda Bay to Canning River.
Five boats turned out for Day 2 of the Swan River Raid and lined up in bright sunshine on the Matildas Bay foreshore along with some admiring onlookers. Those starting were:
Jim Black – Wee Birlinn
Wally Cook – Karina
Tony O'Connor – Weedy Seadragon
Paul Ricketts – Matthew Flinders
Chris Robinson – Gryphon
The weather was more or less as forecast with a SE breeze at around ten knots and in these idyllic conditions the five yachts headed out for Canning Bridge.
As the fleet approached SoPYC the breeze steadily dropped out and became very flukey making the approach to the "beach" on the west bank of the Canning near Raffles a tricky approach. All boats landed there to unrig masts and mizzens to pass under the bridge, some rowing or paddling or, in the case of Gryphon, wading through the shallows.
On the beach upstream from the bridge the yachts were rerigged and sailed on up to Deepwater Point for the lunch stop, again in tricky and very variable winds. Karina, who was a little behind the fleet, made a grand arrival under her iron sail and then proceeded to put us all to shame with their sumptuous lunch spread of chicken, salads and the accompanying side dishes. So much for yesterday's salami sandwiches and banana.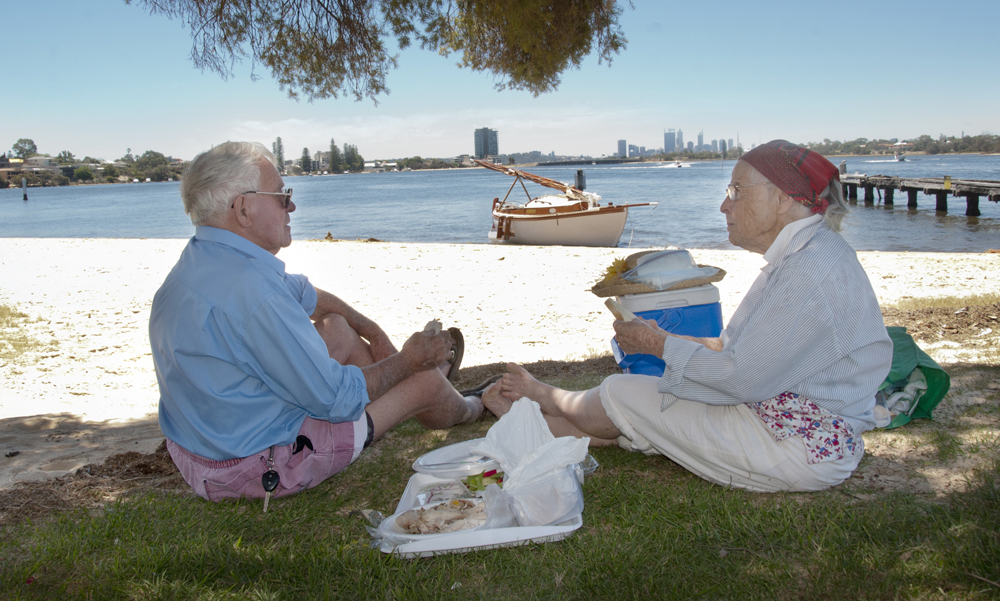 After a relaxing and cooling break in the shade at Deepwater Point, the fleet headed downstream again, this time Gryphon was the only yacht to pull up on the beach for sail/mast/mizzen derigging, the more intrepid, and may I say experienced, crews derigged mid-river and rerigged mid-river on the other side saving much time and effort.
As we moved out of the Canning past SoPYC the breeze picked up significantly and we all experienced a speedy sail back to Matilda Bay without much change in the positions of the individual yachts. It was only after rounding into Matilda Bay that some luck in the flukey winds allowed several to improve their positions.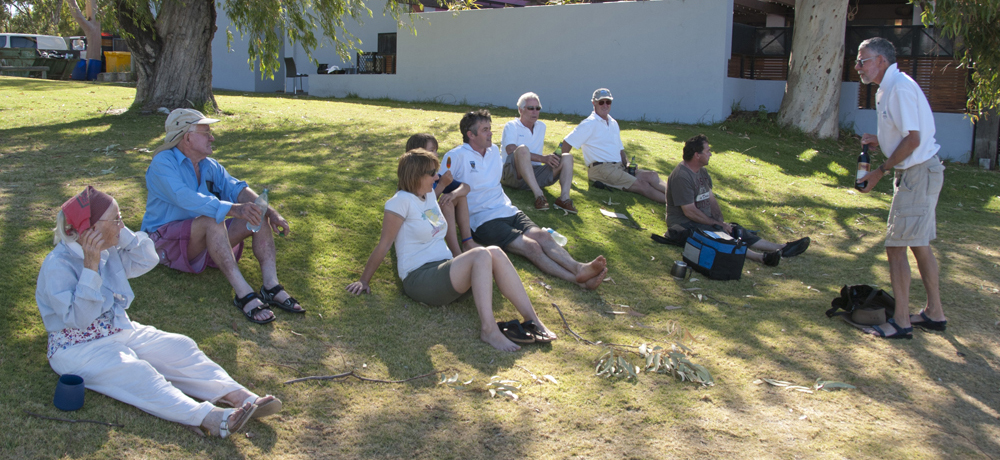 Tony O'Connor and his crew on Weedy Seadragon were awarded First Prize and Wally Cook on Karina were awarded, and well deserved it was, the Special Effort Prize.
Thanks to Jim Black and James Bennett for their organisation together with all who attended to make this first "raid" a success and a model for future events.
View the Photo Gallery