by Jim Black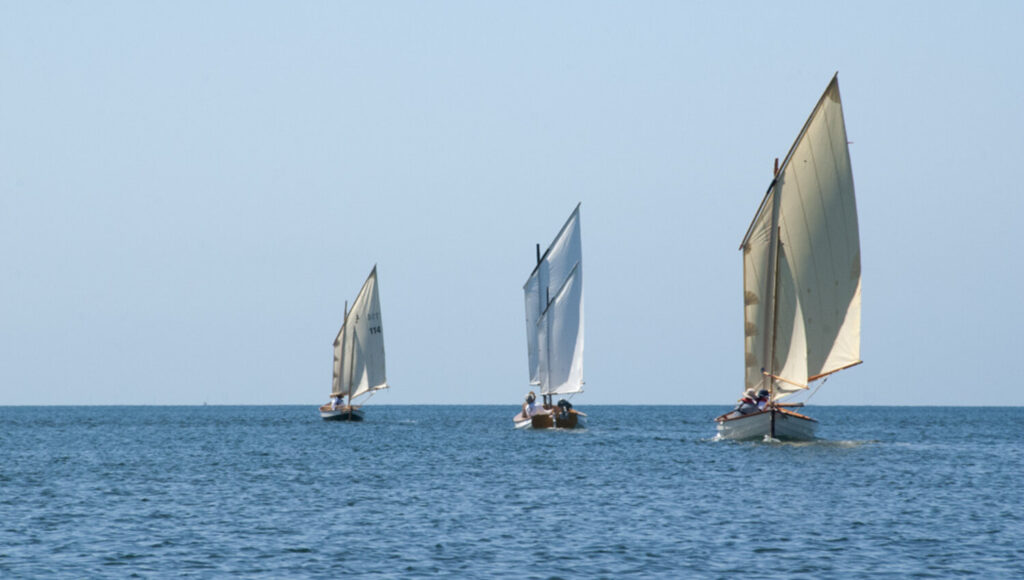 The real benefits of email: on Friday afternoon the C Fleet group receive an email from Tony O'Connor (Weedy Seadragon) advising that Sunday (21 October) looks great for a sail and that he plans to launch at Rockingham at about 1030. A couple of emails later and there are four boats rigging on the beach at Rockingham on an absolutely perfect morning; one Caledonian Yawl, one Ness Yawl, and two Welsford Navigators but with very different rigs. That was the start of one of the best day's sailing I have had recently; it's not every day you can sail all morning on sparkling waters in perfect temperatures on fast close reach; pull in to a deserted sandy beach for a picnic lunch and then broad reach back all afternoon, with no real beating to be done at all.
The four boats were remarkably evenly matched in speed; the other three being sailed two up under full sail and I singlehanded with one reef in the main. The wind, as forecast, remained in the West all day so we sailed north up Cockburn Sound inside Garden Island. There were few other boats out under sail, interestingly one of the first that we saw, coming in under the causeway, was also a gaffer although she was not quite close enough for us to identify her. We pulled up on the beach on Garden Island south of the fuelling jetty for lunch and sat and chatted in the shade for a while, inspected each other's boats and discussed the relative merits of our different rigs.
After lunch we continued north to the top end of Garden Island where I turned back first, and two of the others shortly after, to begin the long but excellent reach all the way back down the sound again. Peter Kovesi and his intrepid crew however continued on round the top end and sailed home outside the island; reportedly covering the 15km in 1 hr 45 mins; you can't get a much better small boat sail than that! Next time, when I'm better prepared, I must do likewise.
Also check out the Gallery page.