Wellington Dam Camp Out 26-28th November 2021
JAMES BENNETT.

The weather for the weekend camp out was unfortunately not the best with light winds and 36 degrees forecast for Collie. Our base for the weekend was the Potters Gorge campsite which is set in a mix of Jarrah and Marri trees, with well-spaced camping areas. Friday evening was very social, with everyone gathered around our camp fire, we agreed that on Saturday morning we would to sail to the Kiosk on the Dam for a coffee before heading up the arm of the reservoir towards Collie. Saturday breakfast time saw the resident and very cheeky Port Lincoln Parrots (Dowan in the Noongar language) keep the crews of Iolanthe and Whimbrel entertained with their attempts to steal some breakfast.
Michael Arthur joined me on Kailani as he was still recovering from a recent knee operation. Michael was on the helm while I did all the running around hoisting sails and weighing the anchor. The fleet slowly sailed south to the beach below the kiosk before paddling the final metres into the small rocky beach. Some of us went up to the kiosk to buy coffees leaving the boats to be tended by our crews. On Saturday we had two boats with electric propulsion, Iolanthe was fitted with an electric outboard, and Reach Out an inboard electric motor. This was a comforting thought with the prevailing conditions.
With the coffee delivered, the sail was more of a slow drift than a sail due to the shifty and dying north east wind. Jim Black in Reach Out silently motored around the fleet to chat and take photographs. It was very pleasant to be able to talk between the boats, as Reach Out's electric propulsion is pretty well silent. Waltzing Matilda looking like a modern day Viking boat, started the day by flying a smart looking recycled blue spinnaker, sadly the wind dropped so much that her crew of four were put to the oars to paddle out of the large calm patch they had found, which then went onto capture the rest of us. By 11.45 the call went out on the radio that a cooling and reviving swim was declared necessary for our health.
We pulled into a small beach and anchored off with a stern line attached to a tree. Jenny Longley kindly acting as harbour master taking our stern lines and tying them off to various bits of tree. It was quite pleasant sitting in the shade on the water's edge with the very slight breeze washing over us. John Longley erected a very elaborate tarpaulin boom tent on Crazy Bird, which sadly was too hot to sit under! After lunch and another cooling swim, we upped anchor and attempted to sail further upstream. After an hour or so of very slow progress we decided that 2pm would be the time to head back. The first part of the return leg turned into a bit of a race between Whimbrel, Kailani and Crazy Bird. Kailani was dropped pretty quickly into a windless hole, and the other two boats drew ahead. We watched an amusing if very slow motion tacking duel take place between the two boats. Much laugher could be heard across the water as the wind lottery favoured one boat then the other.
There was photographic evidence presented later that day of Peter Kovesi's determination to win this duel showing his crew swimming behind Whimbrel and pushing her forward, but to be fair I think this was well after the tacking duel had finished.
Around 3.30pm the wind died completely and on Kailani we reluctantly accepted the second tow of the day from Reach Out. On the way back we collected Crazy Bird and her very hot looking crew, who had been rowing far too energetically in the hot and windless conditions.
Back at the beach we set about anchoring our boats for the night. John Longley had designed and set up a very elaborate mooring that permitted Crazy Bird to be pulled in and out of the beach. As he remarked, Roger Barnes would have been proud! The less sophisticated of us dropped an anchor offshore and pulled our boats back into shallower water and tied a stern line to a tree. Waltzing Matilda joined the cluster of moored boats, while Iolanthe was further to our south. Reach Out sadly had to return to Perth and was already safely on her trailer.
Saturday night was again very social with a great selection of pre-dinner cheeses and other delights set out for everyone to share. A medial emergency was declared for Crazy Birds crew and cold beers were issued to help them recover from the very hot row. Her crew had bravely 'enjoyed' a 'No-November' alcohol free month and had not brought any beers with them, while Saturday was still technically in November the cold beers were urgently required and very well deserved!
Good social banter and gentle teasing of who did what during the day made for a very enjoyable evening. It was noted that Whimbrel always seemed to be ahead, or the fastest to leave, or pack up, or get coffee or similar. There was much discussion and analysis on how this could be, with no satisfactory answer arrived at! There was even talk of sabotage and tying a bucket under her hull during the night. Later in the evening Kailani's Sunday crew quietly sang and played their ukulele's. Several boat crews said this created a very nice ambience as they drifted off to sleep. I hope they were not just being polite!
The birds at Potter Gorge enjoy starting their day around 4.35am and announced their presence with a loud and raucous dawn chorus. In fact, even in the night it is noisy, with Green Tree and Motor Bike frogs all doing their best to out call each other. If the frogs were silent then the resident Boobook owl or Tawny Frogmouth took over.
Sunday morning saw a slow start as there was no wind at all! Those leaving later in the day packed their camping gear. There was a debate as to what to do with the day. This ranged from taking turns in Wendy and Jerome's spotless white Tesla, through to driving into Bunbury to see the latest Bond movie. Sensibly we decided to paddle/drift, walk or drive up to the Kiosk and take a slow coffee and second breakfast (well for some). The drive did permit some to enjoy the comforts and glimpse the famed acceleration of the Tesla!
By 11am there was still no sign of a stable breeze so it was decided that the weekend would be cut short and most of the team would head home. Waltzing Matilda and crew had rowed/drifted down to the Kiosk, but on her way back, despite having her skipper sitting on the bow managed to ram a nasty looking tree stump that was just below the water's surface in a water depth was around 4m. Fortunately, apart from some scratched paint, and dented pride no serious damage was done.
It was sad to see everyone depart. The wind did finally arrive around 2.30pm on Sunday afternoon, blowing in at perhaps 8-10 knots from the west. Kailani enjoyed a lovely gentle sail until 5pm when just as suddenly the wind dropped out completely. Fortunately, we were close to the boat ramp so only had a short paddle back to the ramp.
On Sunday night the campsite was very quiet as most visitors had left. On Monday morning we again had the close attention of several Doran's as they tried to steal breakfast and anything else that looked edible. Kailani's crew took turns to have a pleasant paddle on a SUP. I found the tree stump that Waltzing Matilda had hit complete with a bit of paint on its nasty looking jagged top. We had a final quick dip then it was time to head home.
Thank you to everyone who came to Wellington Dam, a long drive for Iolanthe, slightly less so for those of us from Perth. Despite the lack of good wind, the weekend was saved by an excellent social scene and the fun of camping in a beautiful part of the world.
Everyone agreed we should consider going back to Wellington Dam, perhaps in the spring when the chance of hot windless conditions is less likely and also before the dam water levels drop too far after the winter rains.
The graphic below shows how fortunate we have been with the water levels this year, so it was good to be able to take advantage of these conditions.
Footnote: the mauve/pink bushes with very prickly leaves that lined the foot path near the water's edge are Holly leaved Mirbelia.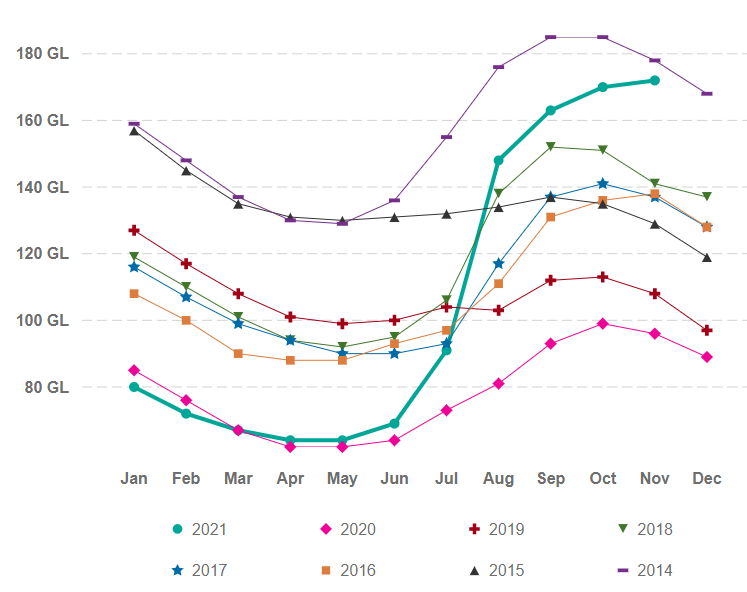 Stats off Kailani's GPS
Saturday: Distance sailed 8.91 n.miles, on the water for 5hrs 2 mins, Average speed 1.8 knots, fastest 6.2 knots (under tow!)
Sunday: Distance sailed 6.6 n.miles, on the water for 1 hr 58mins, average speed 3.6 knots fastest 5.8 knots.
Photos below, see the full gallery for others.