Fun in the Wind at Rockingham February 2014
By Pauline Dilley OGA Secretary.
I have been reminded that in our daily lives we are rarely really tested, but when you are on a small sailboat in a stiff breeze, way beyond the 15 rule, when things are beginning to fail or break, when you are getting wet and cold, when you can't switch it off or get off, then you are tested and you surprise yourself with what you can actually achieve. And then you can brag about it later!
Six lovely craft and their masters tore themselves away from their 'other busy lives' and visited Rockingham; Jim Black with Wee Birlinn, Paul Ricketts with Matthew Flinders, Tony O'Connor with Weedy Sea Dragon, Chris Robinson with Gryphon, Ted Schmitt with Jardup Lady and Geoff Vardy with How Bazaar. Our ranks were swelled with Peter and Diane McDermott, James and Belinda Bennett, Penny and Jamie O'Connor, Pauline Dilley and Colin Aburrow.
We set off on Saturday morning for a pleasant sail from the hardstand to The Cruising Yacht Club, in time for a skippers briefing and a pleasant lunch. So far so good.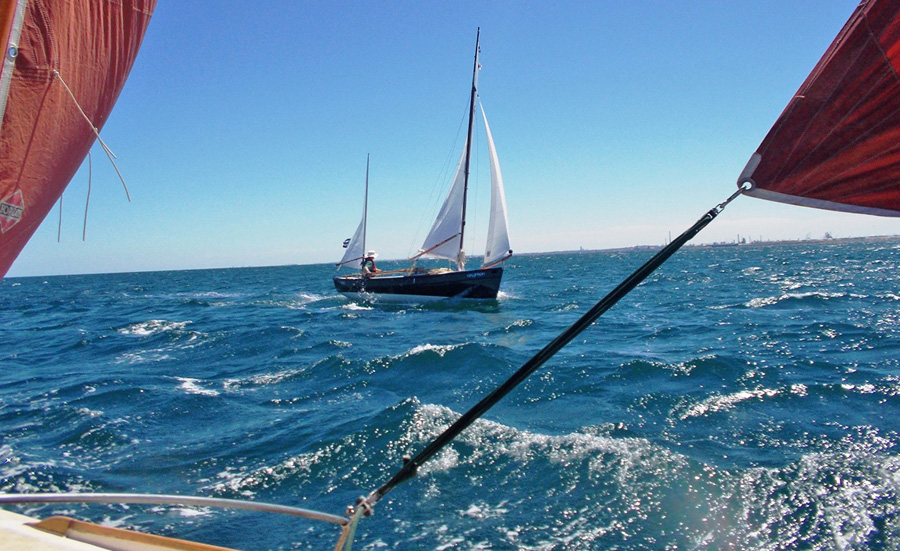 Race start time was 1400, 1415 for OGA, and it was on! I was crewing for Geoff and we had enough trouble raising sail and finding the start line! The wind was steadily increasing and the white caps seemed to be growing their own white caps. My Beaufort Wind Chart on my toilet door (get it?) says it was a 20-25 knot sou-wester.
Despite lost pulleys and tangled main sheet, and reef knots that wouldn't stay tied, Geoff skippered us through some sort of course and we did actually round 2 marks correctly, though the start and finish lines were completely beyond us. Not so for Chris Robinson, Paul Ricketts and Jim Black, who won 1st, 2nd and 3rd places. Apparently there were a considerable percentage of retirements from the other fleets, but not from OGA!

Geoff reminded me that last time I crewed for him, in Koombana Bay, circa 2003, it was a flat calm in punishing March heat and I went overboard for a swim. Well I got wet this time too, but not the same way!
Commiserations to Ted whose mast broke in two. He was so calm about it.
Race apart, it was TCYC hardstand magic that older members will remember. Camping in the yard, Saturday night barbecue, joined by June Schmitt and Muriel Aburrow, watching the sunset light play across the moorings, and then Sunday breakfast on the veranda, spending time with like-minded people, yarning and relaxing, and yes, someone ended up aground on Sunday morning's low tide; someone always does! I hope you got away ok Geoff.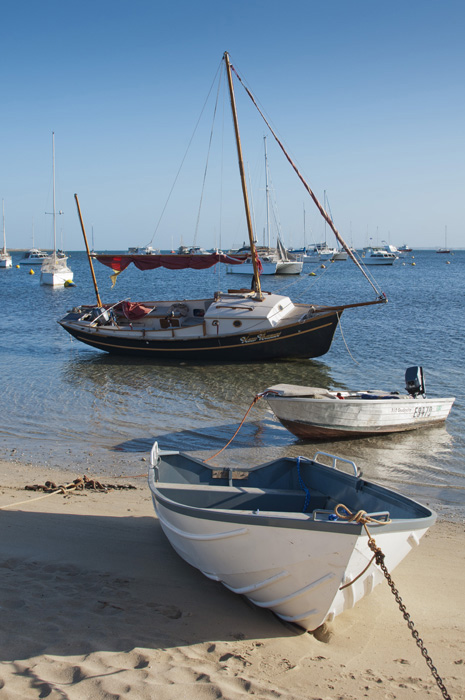 Our sincere thanks go to TCYC for their hospitality, accommodation and friendliness. They seemed genuinely pleased to have us there. And the consensus was that this should once again become an annual event. See the Gallery of Photos.