Retro Series 2013/14 Race 1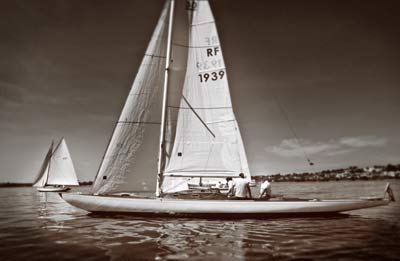 Manfred Speicher – Bacchante – RF 1939

"…. and they came again: For the 5th year running of the SWAN RIVER RETRO YACHT SERIES 2013-2014 season.
14 of WA's finest vintage Gaff & Bermuda rigged assembled at the Swan Mid River start.
'Hughie winked with a zephyr' at first and then blew the fleet into the picturesque Mosman Bay for a 'Concourse de Elegance' in front of Royal Freshwater Bay Yacht Club grand stand – where family and friends watched their favorites showing off as Canobie, Fan, Genevieve, Wee Berlinn, Solquest to mention only some.
Tied up at the Freshie main wharf the sailors of young and 'not so young' met up for banter, refreshments and the prize giving. The 46 year old newcomer RPYC Thunderbird 'Metala' with proud owner Bruce Spencer and the ever gracious RFBYC Tumlaren 'Haze' of Tim Lipscombe took the awards of the day.
Race Officer John Walsh and his much appreciated team wisely mastered the conditions and challenges of the day."