The following morning gave us the best sunrise photos of our boats so far. The lagoon was a sheet of glass with our boats glued motionless to the surface and the extraordinary colours of the morning sky mirrored in perfect symmetry on the water. It took us a while to finally put our cameras away before assembling breakfast from whatever remained of our supplies, I forget what it was but it was a bit unconventional. I had run out of instant coffee and Paul had run out of pancake mix, clearly we had to get back to Denham today! For one last time, we sailed out through the channel and with a brisk and slightly chilly easterly we set off on a nice reach down the coast. Once again we lifted our plates and skidded along the turquoise shallows near the coast. It was such a great way to finish off our trip.
Our journey was coming to an end, with a sense of contented accomplishment but also a tinge of reluctance we rounded the final landmark of Lagoon Point and tacked our way into the jetty at Denham. The ramp was pretty much deserted as we tied our boats up and went off to get our trailers. However as we got ourselves organised some of the locals started to appear. They had seen our trailers sitting in the car park and had noted how long we had been out, some had also got the story from Wende and Noel. Soon we were caught up in some lengthy conversations. In the middle of all this I put in a pleasant log off conversation with Wende and promised that we would drop in and fill them in on our adventures. After our camp food we were looking forward to something suitably unhealthy for lunch, I was really wanting a nice burger. However, by the time we had finished all our explanatory conversations and packed our boats the eateries were closed. The best we could manage was to get a couple of pasties just as the bakery was closing.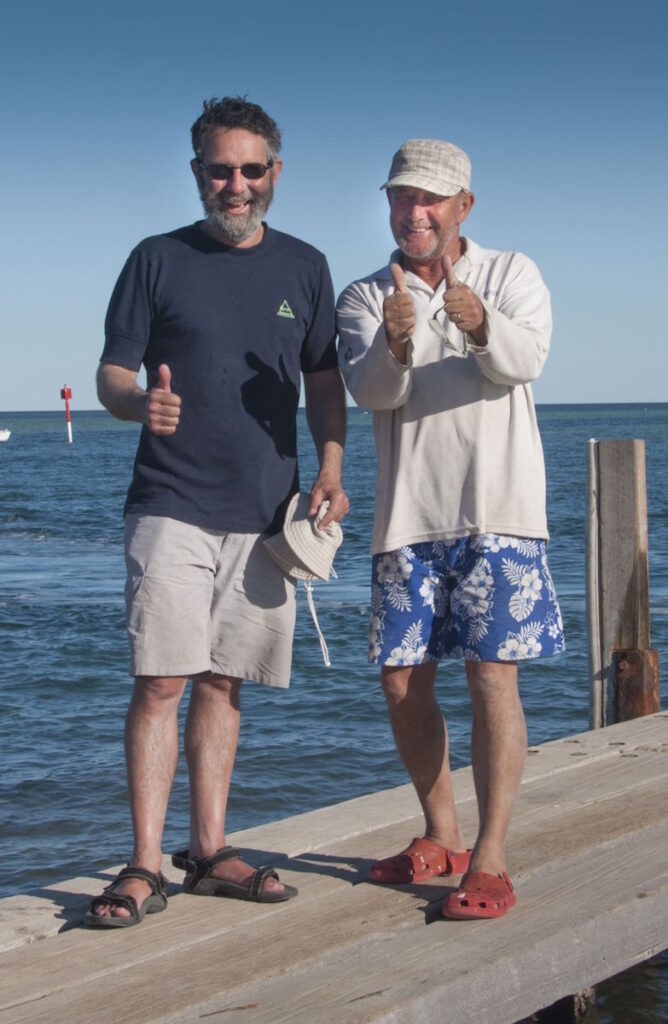 Up on the hill above the town we finally got to meet Wende and Noel. They showed us over the radio room and soon we were busily discussing all sorts of things, rescues they had coordinated, their adventures in Shark Bay, our adventures in Shark Bay, good anchorages to visit, and so on. Before long they were showing us through their house, where we finally got to see the spa bath with the 180 degree view that was discussed at Tetradon Loop, they also invited us to stay the night in their guest unit. I felt a bit embarrassed but Paul eagerly accepted, I think there was no way he could face another night in his swag. We did our best to repay their kindness by treating them to dinner.
The following morning after a wonderfully comfortable sand-free night we took leave from our kind hosts. Our adventure was over, all we had to do was drive home…