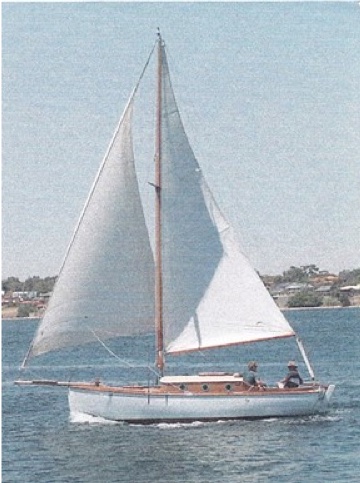 Howard Hartman 1927, "sailor" Lewis 1945, Trevor Hill 1947, Dennis Robinson 1948, "Ossie" Smallwood 1960, Ken Smith 1969, Keith Smith 1979, Unknown 1983-1990, Rowley Goonan 1991, John and Ann Brodziak 1997.
LOA: 28'7" LOD: 23'6" Beam: 8'9"
Keel/Centreboard and draft
Carvel plank jarrah below water line, NZ kauri above. Western Australian karri steam bent ribs.
14 HP Drofin 2 cyl diesel.
Built by Howard Hartman an Albany fisherman. With Harrison Butler's advice he scaled the LOA from 21' to 24' so he could fit a small Swedish crude oil engine and allow for use of heavier local timber. He arranged for a 25 cwt cast iron keel to be made at the State Engineering Works in Fremantle.