Peter Kovesi: Navigator Whimbrel
and
Paul Ricketts: Pathfinder Araluen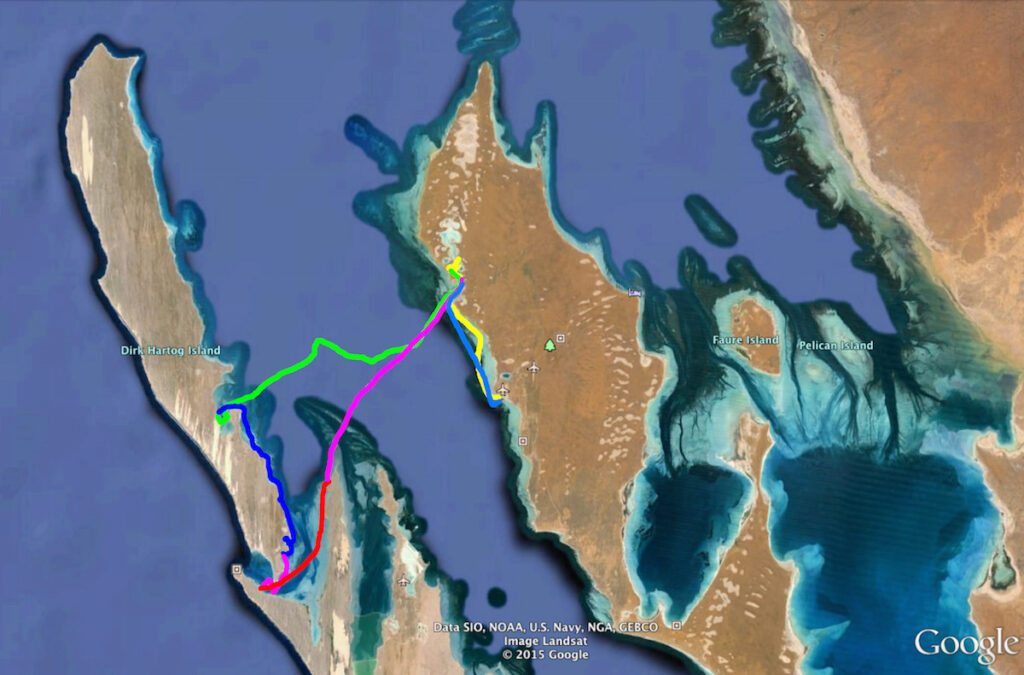 It was getting cold in Perth, we wanted a sailing expedition and we wanted it to be somewhere warm. Shark Bay was the answer. For those who are not familiar with the place Shark Bay is about 800km north of Perth and forms the western most point of Australia. It is also the location of the second known European landing in Australia, made by Dutchman Dirk Hartog in 1616 on the island that now bears his name. It is a remote place with World Heritage status. The coastline is long and intricate with spectacular cliffs in places, the waters are rich in sea life, and the surrounding land parched and arid.
After a couple of weeks of working out what we should get for our expedition, getting it, and then working out how to pack it into our boats (or not) the day of our big drive finally came around. It's a long, long drive and we eventually crawled into Denham a bit after dark. Things did not get off to a great start. Some disaster had befallen our poor campground manager and he was in a foul temper. However, he struggled through his bad mood to book us into a site and give us a map of the town pointing out its two pubs and one fish and chip shop.
Given our site was an uninspiring patch of sand we thought our best option was to sleep in our boats. In my preparations I had never completed my planned boat tent. My masts, as tied down for the car trip, formed a low ridge over which I draped a tarp and under which I rolled out my sleeping mat and bag. Paul was better prepared and had a very spacious boat tent, though it did take some setting up. After a fine dinner of fish and chips we climbed into our boats for the night.
On Sunday morning we clambered out of our boats to survey the campground around us. Our boats were surrounded by caravans with TV aerials, annexes, large gas BBQs and other assorted items that people seem to find essential for camping these days. We wanted to get away early as we had grand plans of making the long passage across Denham Sound to Dirk Hartog Island. We also had a weather forecast that was warning of a strong northwesterly storm due to arrive on Tuesday night and Wednesday. If we were to get over to the island we had to do it today or tomorrow. We set to work getting all our gear out of our cars and squeezing it into our boats. Paul had rather a lot of gear but those who have seen a Welsford Pathfinder will know that it is a large boat and, like a Tardis, it is even larger on the inside. Even so, Paul's Pathfinder did seem to struggle a bit to absorb all his gear.
Our preparations were constantly interrupted by lengthy chats with curious caravan park locals who wandered past to investigate the two oddities that were in their midst. Time was marching on, eventually we got ourselves to a state where we could get ourselves away from the curious onlookers and down to the launching ramp. We rigged up, finished our preparations, and rang the local Australian Coast Radio Monitoring group to log our sailing plans with them. This ended up being the most pleasant, and rather extended, log on call that I have ever had. The Shark Bay area is monitored with devoted care by volunteers Wende and Noel. Wende filled us in on lots of useful information, she also noted the address of my Spot tracker web page so that they could follow us without the need for radio or phone reception. On top of this Wende took our car details which she would forward to the local police so that they could watch over them in the car park. Noel would also place tags on our trailers so that the locals would know that we had been logged and that we would not be falsely reported as having failed to return from a trip. What wonderful people! This lifted a whole lot of worries from our minds.
Finally we had our boats launched with all the worldly possessions we thought we needed in them ready to go, but time had well and truly got away from us. So much for the early start, it was lunch time! A crossing to Dirk Hartog Island was out of the question. We settled for what should have been our original plan, a shakedown cruise to the Big Lagoon on the Peron Peninsula about 20km to the north. Besides, the wind was going that way, the island would have to wait for tomorrow.
What a relief to be finally gliding our way across the clear green waters of Shark Bay. The stress of the preparations melted away and huge grins settled on our faces. We followed the amazing coastline north. The colours were stunning. We would look across the green water to the white sandy beaches, then to the red earthy cliffs rising above them with deep green patches of vegetation growing on top, and finally to the blue sky above.
Normally any boat would have to travel well offshore to avoid the extended shallows. However, with the wind behind us, we simply lifted our plates and glided over the sand, enjoying the coast from close up. Sliding along in this fashion we eventually came to the entrance of the Big Lagoon where we scraped our way over the even shallower shallows, found the narrow channel, and picked our way in.
We slipped past the birds sitting on the sand bars, past the camping area full of 4WD vehicles and their noisy generators, and finally found ourselves a sheltered spot on the far side for the night. The Big Lagoon, like all of Shark Bay, is an extraordinary place. First of all it is big, we had not even got half way up it, and secondly, our chosen spot was in an area of red dunes, our boats were on a red beach! We scrambled about enjoying the extraordinary sights.